It's time to have this critical conversation.
In this online Round Table via Zoom, we are going to talk about what leaders and their teams should be thinking about when the restrictions are lifted and people "return" to work.
– How do leaders prepare to deal with a workforce that has been working from home for over 14
months?
– How can leaders create psychological safe spaces to have difficult conversations upon our return?
– Should leaders be prepared to discuss issues that are happening in society?
– What are some of the policies that must be adjusted before people return to work?
– What are some strategies to connect with the workforce and meet them where they are?
– What change principles can be used to aid in the re-integration of the workforce?
These and many other questions will be answered by our speakers: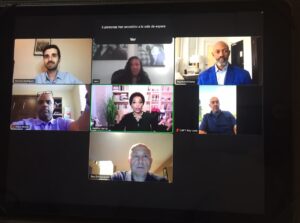 • Antonio Rodriguez is the Founder and CEO at Efficient Happiness. Antonio is an expert on Leadership and business improvement processes and emotional intelligence. He is also a motivational speaker and lecturer of Laws, Entrepreneurship and Happiness at Work.
• Veronica Lawrence is the Country Manager USA and expert on Diversity, Equity, Inclusion and Organizational Phycology at Efficient Happiness. She worked 8 years as an expert on Diversity, Equity, Inclusion and belonging at the Department of Defense and Pentagon.
• Ron DiFrancesco is the expert on Resiliency and Strategy at Efficient Happiness. Ron was the last known survivor of the 9/11 terrorist attack in New York. He is also a well-known Keynote speaker, Senior Operational Strategist with executive leadership and their organizations and he was awarded by the Royal Canadian Geographic Society for his work on resiliency.
• Roy Love is a well-known Captain of the US Navy. Dynamic, highly dedicated Senior Director with a proven track record of success in strategic leadership development, Organizational Development, Executive Leadership Coaching, staff development, student development, project management and process improvement.
• Raymond Kempt is a highly experienced Senior Executive in Leadership and Human Resources. An accomplished, results-oriented, forward-thinking organizational consultant with over 10 years at the highest levels of the US Navy; improving organizational strategies, increasing operational excellence and boosting the performance of teams and employees in a variety of large organizations.
• KK Harris is an executive career coach who helps individuals find their confidence, express the value they bring to the organization they work for, gain a promotion, have their unique voice heard and to rebrand themselves to unlock career opportunities to ha a more fulfilled work experience.
• Orion P. Welch is a program manager in the defense contracting industry specializing in next-generation technology for intelligence and space operations. He is a retired Naval Aviator, and currently a Doctoral student at the University of Southern California. Orion is a Diversity, Equity, and Inclusion facilitator and an active advocate for social justice.
Don't miss this critical conversation!
We will be more than happy to reflect with you.
Join us HERE.